Dear Homescholars,
This week's feed has been posted in our classroom theater
and will take place through Google Plus.


The playlist for our 2014-2015 classes is here: http://www.youtube.com/playlist?list=PLExCxI6q5_Xnpxfr0yI8ATzOnU6SmkO2x

To learn more about the class, please visit: http://abacus-es.com/eie/advancedwriting.html, see the links and watch the video.

The playlist of 2013-2014 classes is also on Youtube:
http://www.youtube.com/playlist?list=PLExCxI6q5_XmwbFdBDNpSar91svWKDe9Y

---
Agenda
Debate
The initial debate topic was assigned: "It is appropriate to censor certain things in the media" Let's do it. We will all try to take both sides.
---
Masefield's Guide to the Shakespeare Plays was provided as a quick overview for deciding on a play to do. We have selected MacBeth to start with.
Essay Writing

We may discuss further essays from the book: Essays That Worked edited by Boykin Curry, ISBN: 0449905179. These demonstrate consistently excellent language: metaphor, collocation, coordination constructs, felicitous vocabulary, concision and concinnity. We will examine all of these and practice them in both writing and speech. Let's start by examining these devices as used by the masters.

2015 Scholastic Writing Awards
This is a contest to which we may want to submit papers.
---

The query letter
EIE is starting up a new blog that may need contributions from students. Let's be very proper and submit query letters.

The lead, which is designed to catch the editor's attention. It might be a startling statistic, a time peg, or an anecdote. Your lead should interest the editor enough to continue reading your query.
The why-write-it section. This paragraph (or two, if you have a particularly detailed query) fleshes out the idea, demonstrating why the readers of the magazine will be interested in the topic.
The nuts-and-bolts paragraph. Here you give the details of the story itself. What types of sources will you contact? How long will the story be? Will it have sidebars, and if so, how many? What section of the magazine will the story fit in? What's the working title?
The I'm-so-great paragraph, or ISG. Here you highlight your relevant qualifications, including your writing experience and background with the subject matter. This is the paragraph in which you showcase your unique qualifications and convince the editor to give you the assignment.
Let's discuss chapters 1 and 2 in SAT ACT TOEFL College Prep English Practice,
---
Let's discuss the High Priority Assignments

MacBeth.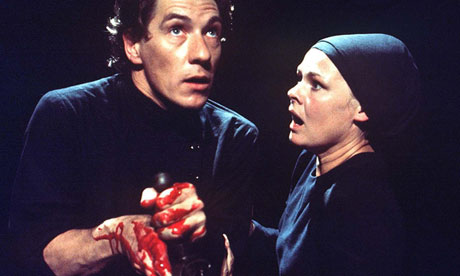 A MacBeth page has been created with two excellent video versions including one starring Sir Ian McKellen and Dame Judy Dench. Let's discuss them.

Let's discuss the heated and rebarbative debate with lots of ad hominem deprecation. Note the striking difference between the language of the two debaters. Which would you prefer to emulate? Christopher Hitchens and George Galloway debate intervention in Iraq.
Let's discuss this old debate beween legendary orators: William F. Buckley vs Noam Chomsky
Here is a fairly comprehensive List Of Fallacious Arguments
for reference.

Let's possibly discuss further a couple of Scholastic Writing Award winning essays, one persuasive and one a personal memoir: Let's discuss chapters 1 and 2 in the text.
Let's discuss submitted projects. These may have been drawn from the
list of suggested debate topics

, a query letter, an admissions essay or perhaps the writing projects at the end of chapter 1 in the text.
Language immersion: Some fun with animals and language:

The Zoo in Winter. Let's discuss this wonderful piece by Jonathan Miller for its eloquence. How far does your spoken language need to go to mimic his?
Please let me know if you need more homework.
---
Older Assignments (please do these if you haven't already)
Please watch the debate on US surveillance with Harvard Law Professor Alan Dershowitz and constitutional attorney and journalist Glenn Greenwald. Enjoy watching this epic eloquence battle between eristic giants.
A classroom page for examples of successful essays contains a couple of examples from the essay book, Essays That Worked edited by Boykin Curry, ISBN: 0449905179. We did read parts; please read them more thoroughly and prepare to speculate upon the characteristics that make them successful.
Please consider Shakespeare plays for watching, dramatic readings and discussion. Suggestions: Much Ado About Nothing, As You Like It, The Tempest, A Midsummer Night's Dream, The Taming of the Shrew, MacBeth, Hamlet, Romeo and Juliet. Please refer to Masefield's Guide to the Shakespeare Plays for a quick overview. We decided to do MacBeth, possibly followed by Romeo and Juliet
Be familiar with the list of suggested debate topics

Please read the first chapter in our textbook: SAT ACT TOEFL College Prep English Practice, available at the EIE bookstore and Amazon.com.
Please watch this High School Debate Contest, the City Club of Cleveland's High School Debate Championship. Debate is on whether the US should support and comply with the International Criminal Court.
This is a very fine debate with positions well presented and justified. The commentary is also very useful, particularly for it's explanation of the judges' evaluation of the contestants.
Please watch the Oxford Union whistleblower debate.

---

Our online classroom contains a vast trove of English language resources ranging from full text books and audiobooks to films, plays, software and all of the assignments and activities generated in previous years. Please feel free to explore and suggest any specific items for inclusion in our high priority assignments.

---
Please post questions, suggestions and discussion